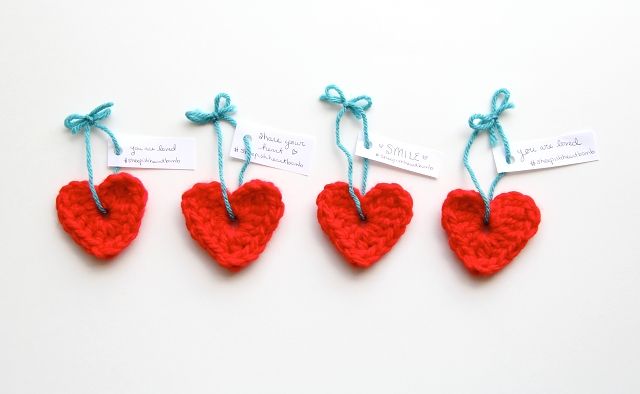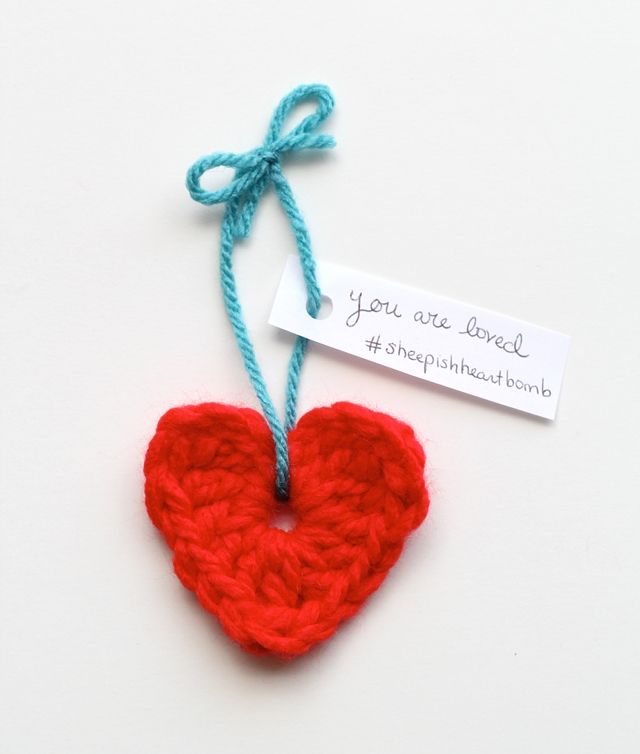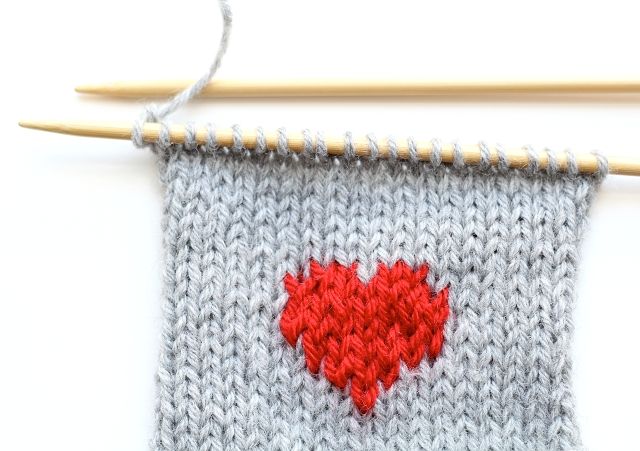 Knit, crochet, sew or cut out a piece of felt! Use your creativity and share your heart with your neighborhood.
Several months ago I hosted a
Sheepish Yarn Bombing Day
where we all went out and yarn bombed something in our part of the world. I know for some of you it was your first time yarn bombing and I really loved
seeing all of your photos
on Instagram and Twitter.
So, I am really excited to host another yarn bombing day this month. I decided to use February's heart theme as a way to spread some love and share our hearts. I'm calling this one a
Sheepish Heart Bomb
! :) The idea is to knit a heart, crochet a heart, wrap a yarn heart on a fence, sew a heart with some scrap fabric or cut out a heart-shaped piece of felt and hang it somewhere in your town. If you want, attach a short and encouraging note that says something like, "Smile" or "You are loved" and include the hashtag
#SheepishHeartBomb
. (I remember on the last yarn bombing day
Caleisha
did something similar with her heart yarn bombs!)
Maybe you could hang a few hearts on a bench outside of your local hospital. I know it would brighten someone's day who needs a break from the hospital walls. You could hang some from a tree outside of a retirement home, your local grocery store, your library, or on a fence at the park. Hang one on the door handle of a small business to show your support. Share your heart and spread some love wherever you want! The person who stumbles upon your heart creation is sure to smile. It is a small gesture, but I believe the smallest acts of love can truly make a difference.
My last few yarn bombs were intarsia creations, a
strawberry
and a
pumpkin
. For this heart yarn bomb I decided to knit an intarsia heart! I can't wait to hang it somewhere around town, along with my crochet and felt hearts, on Valentine's Day!
If you want to crochet a heart you can use the pattern I found
here
. I slightly adjusted the pattern by chaining 4 at the end instead of three. It helped my heart stay flat a little better. I also shared a fun video of the crochet hearts on
Vine
under the username "One Sheepish Girl".
- Make a magic loop. Chain 4.
- In the loop, 2 triple crochet, 3 double crochet, chain 1, 1 triple crochet, ch 1, 3 double crochet, 2 triple crochet, chain 4.
- Pull the loop to tighten the center of the heart. Slip stitch in the center of the heart and fasten off.
- Weave in the ends on the back of the heart.
However, you don't have to go with the heart theme for your creation. Any form of yarn bombing will work. Please share your photos on
Instagram
,
Twitter
,
Facebook
or send me an email as you make your creations and share your hearts around town. Use the hashtag
#SheepishHeartBomb
so we can see your photos!
This Sheepish Heart Bomb yarn bombing day will start on Valentine's Day,
February 14 and go through Sunday, February 17
. I wanted to include the weekend so more people can participate!
I love the idea of using your creativity to bring joy to someone's day. Let me know if you think you can participate. I can't wait to see your photos and hear your stories. :)